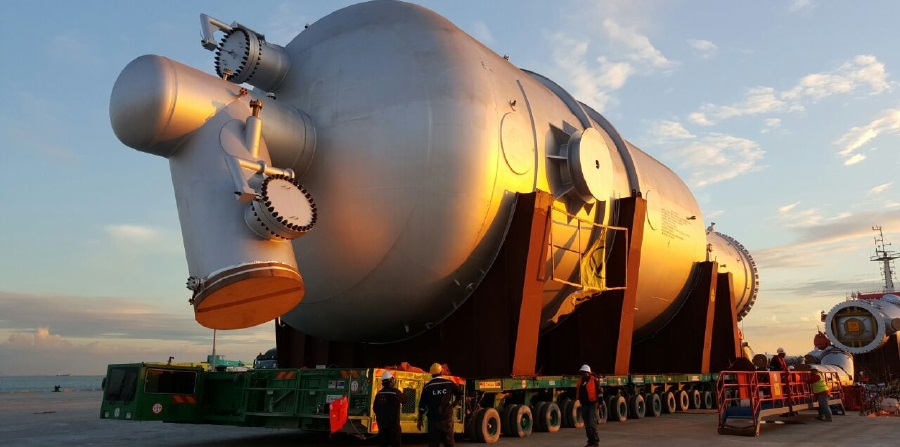 QEL is a subsidiary of LKC Holdings Sdn Bhd. As such, we're well equipped, asset wise as well as experience, to handle most logistics requirements and heavy lift transportation on land and by sea.

QEL's vast experience in sea transportation have given us the opportunity to work alongside with conventional and breakbulk shipments from and to various destinations, for example Port Moresby, Lae, Honiara, Belawan, Pekan Baru, Kantang, Dumai, Batam, Australian ports and New Zealand ports, among others.

The regular cargo type handled are (but not limited to) steel products (billets, deformed bars, plates), excavators and dozers, fabricated palm oil mill equipment & parts, paper, fertilizers, for industries such as mining, plantations, commercial users.
Highlights of Past Heavy and Oversized Transport
Summary of assets and expertise as follows:
Sea
Owns and manages 9 sets of tug and barge with a carrying capacity of 1,650dwt up to 10,000dwt.
Coastal operations, i.e. within Malaysia, Indonesia, Thailand.
Chartering of vessels and barges – chartering vessels and barges acting as broker for owners.
Services include Port Agency vessel, barge clearance, servicing Penang, Port Klang, Pasir Gudang and Kuantan
Land
Heavy haulage equipment up to 1000tonnes for instance low loaders, Cometto multiaxles and SPMT.
A fleet of container haulage and tipper trucks.
In-house customs clearance license.
Heavy lift cranes up to 500 tonnes – mobile crane ad crawler crane.
Transit shed / Open Yard – a combined 21 acres of open yard for containers and break-bulk cargo storage in various locations.
Warehouse - a combined 96000 square feet of warehouse space in various locations.
Jetty - own jetty with 3 berths located at Sungai Langat.
Availability of other heavy lift equipment such as:
Truck with lattice boom
Elephant stool
Steel plate
Cross beam
Bolsters
QEL offers full range of port agency services to vessel owners – from vessel husbanding, clearance formalities to vessel supplies and crew change.